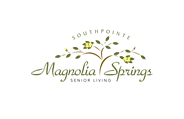 Activities Assistant - Life Enrichment Coordinator
Magnolia Springs SouthPointe

Indianapolis | Indiana
Overview
Magnolia Springs SouthPointe is looking for compassionate individuals that love to work with our seniors. Come join a fun team and receive free meals, tuition assistance, competitive pay, a great benefit package for full-time, and 3 weeks paid vacation the first year for full-time and over a week paid vacation for part-time! Plus, you can get bonuses for referrals!

We are seeking caregivers (all shifts) in Memory Way, caregivers (all shifts; mainly night shift) in Assisted Living, part-time & full-time servers, a full-time Life Enrichment Coordinator (activities) and a PRN Concierge/ receptionist.
Please apply within or feel free to call us at 317-886-2731.
**Please send resume with application. Anyone without a resume will not be considered. **
Position Summary:
Responsible for assisting the Director of Life Enrichment in planning, scheduling and coordinating meaningful activities appropriate to the needs and interests of residents and conducive to their physical, mental and social well-being. Help to ensure the activity programs are appropriately presented by staff.
Essential Job Functions:
1. Assist the Director of Life Enrichment with scheduling and coordinating all resident activities on a monthly basis.
2. Assist with preparation and distribution of weekly program contents.
3. Assist with gathering information, articles, and photos for newsletter.
4. Assist with planning and coordinating special events including events for seasonal holidays.
5. Assist in planning and conducting arts program, entertainment for special events, monthly birthday parties, group games, weekly religious services and individual independent projects that reflect the "Life Enrichment" activities.
6. Assist the Director in maintaining an adequate supply of books, puzzles, magazines and games.
7. Assist the Director in training all staff on activity-related programs.
8. May be responsible for transporting residents to appointments, as well as regular and special recreational outings.
9. Assist the Director in communicating information to the Nursing department regarding activity ability changes in status that may require resident Care Plan updates.
10. Report all program policy/procedures discrepancies to the Director of Life Enrichment.
11. The Community embraces a culture of hospitality. To that end, all employees are expected as a condition of employment to practice the LCS Hospitality Promises™ in all interactions with residents, fellow employees, and guests:
• We greet you warmly, by name and with a smile.
• We treat everyone with courteous respect.
• We anticipate your needs and act accordingly.
• We listen and respond enthusiastically in a timely manner.
• We hold ourselves and one another accountable.
• We make you feel important.
• We embrace and value our differences.
• We ask, "Is there anything else I can do for you?"
• We maintain high levels of professionalism, both in conduct and appearance, at all times.
• We pay attention to details.
Education Required (Preferred):
• High school diploma or equivalent in education, training and experience
Years/Months of Experience:
• One year activities/life enrichment experience working with seniors
Knowledge/Skills:
• The ability to speak, read and comprehend the English language
• Knowledge of special needs of residents (physical, mental and social)
• Familiarity with Microsoft Office Suite products
• Familiarity with Adobe Acrobat and/or Adobe Reader
Special Requirements (if applicable):
• Must have strong interpersonal skills working with seniors; ability to read, write and speak the English language.
• Must possess patience and sensitivity to others needs
• Ability to work with community groups
• Willingness to work beyond normal working hours
• May be subject to infectious diseases, substances and contaminated articles
• Doctors statement verifying free from communicable disease
• Must possess current and valid driver's license consistent with the requirements determined by size of vehicle and laws of the state in which the driver is licensed.
• Must possess personal driving record consistent with the requirements of Life Care Services Fleet Safety Policy.
Other Information:
1. List tools, equipment, machine used on the job:
• Personal computer
• General office equipment: printer, copier, scanner, fax machine, pager, telephone, digital camera
2. Physical activities of the position:
• Lifts and carries up to 50 lbs. occasionally
• Pushes and pulls up to 100 lbs. occasionally
• Climbs, reaches, bends and twists occasionally (outside activities)
• Talks and listens frequently
• Sits 2 hours per day; stands and walks 6 hours per day (combined) - 8 hour day
3. Physical requirements of the job:
• Light work - exerts up to 20 lbs. occasionally
4. Visual acuity requirements, including color, depth perception, and field of vision:
• Clerical/Administrative - including the work of people who do analysis of data, work at a computer terminal, read.
5. Environmental factors:
• Worker is subject to both environmental conditions. Activities occur inside and outside.
Qualifications and Skills:
Indianapolis;

Assistant

Residents