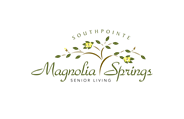 Servers
Magnolia Springs SouthPointe

Indianapolis | Indiana
Overview
Magnolia Springs Southpointe is looking for compassionate individuals that love to work with our seniors. Come join a fun team and receive free meals, tuition assistance with Impact LIFE, competitive pay, a great benefit package for full-time, and 3 weeks paid vacation the first year for full-time and over a week paid vacation for part-time! Plus, you can get bonuses for referrals!
Please apply within or feel free to call us at 317-886-2731.

**Please send resume with application. Anyone without a resume will not be considered. **
The job description for server follows:
Serve resident meals in a timely manner and reset tables for next meal.
Essential Job Function for server:
1. Always maintain a dining room appearance and presentation standards.
2. Speed, accuracy and efficiency is required.
3. Set tables and maintain workstations in proper order.
4. Take orders, provide service and requested items both graciously and courteously.
5. Answer pertinent questions about menu items.
6. Clear dishes from tables during and after meal service, assist with dish washing.
7. Serve customers using proper serving etiquette and promote an inviting dining atmosphere.
8. The Community embraces a culture of hospitality. To that end, all employees are expected as a condition of employment to practice the LCS Hospitality Promises™ in all interactions with residents, fellow employees, and guests:
9. We greet residents, employees, and guests warmly, by name and with a smile.
10. We treat everyone with courteous respect.
11. We listen and respond enthusiastically in a timely manner.
12. We hold ourselves and one another accountable.
13. We embrace and value our differences.
14. We make residents, employees and guests feel important.
15. We maintain high levels of professionalism, both in conduct and appearance, always.
16. We pay attention to details.
Job Type:
· Full- time Service 32 or more hours
· Part- time Service 16-24 hours

Required education:
· High school or equivalent
Qualifications and Skills:
Servers

Dietary

Dietary Aid

Dietary Aide

Restaurant

Hospitality

Food Service

Waiter

Waitress

Diner

Server

Waitperson

Attendant

Steward

Porter