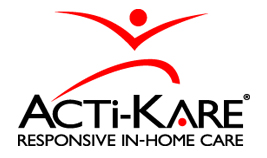 Caregiver
Acti-Kare Responsive In-Home Care of Schaumburg

Arlington Heights | IL
Overview
Acti-Kare is looking for compassionate caregivers who have a passion for helping people. This is a part-time position in Arlington Heights. The caregiver would be responsible for assisting our client with day-to-day tasks such as, cooking, light housekeeping, and store runs.

Hours: 8:00am - 3:000pm
Days: Monday - Friday

Requirements
Valid driver's license
Reliable transportation
Caregiving experience
Positive attitude
Great communication skill
Kind and compassionate personality

Job Type-Part-time
Pay: $15.00 - $16.00 per hour

COVID-19 considerations
Must have recent negative Covid test or vaccination.
Desired Qualifications:
2+ to 5 years of experience
High school degree
Certified Nursing Assistant, Certified Home Health Aide
Light Housecleaning, Meal Preparation, Errands/Shopping
Caregiving experience
Positive attitude
Great communication skill

Qualifications and Skills:
Caregiver